Robinson, Timothy James (b. 1988)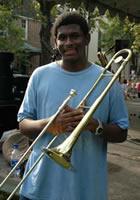 Timothy J. Robinson, a native of Charleston, graduated with honors from Charleston County School of the Arts in 2006 and from the Manhattan School of Music in 2010 with a Bachelor of Music degree in classical tenor trombone.  There he studied with Per Brevig and was the recipient of the William Randolph Hearst Scholarship.  Robinson studied abroad in London in 2009 at the Royal College of Music where he participated in many orchestral engagements, chamber ensembles, and big band orchestras.
While at the Manhattan School of Music and in addition to playing with various orchestras, he performed with the Afro-Cuban Jazz Ensemble which was nominated for a Latin Grammy in 2009 for their "CD Kenya Revisited Love!!!", while simultaneously making the first round of the regular Grammys.  The ensemble was the first orchestra of the conservatory that was nominated for a Latin Grammy award.  Other credits of Robinson include a musical appearance in the movie "The Notebook" and the move musical "NINE."
Robinson has performed with many local jazz musicians and ensembles in Charleston and New York City.  In 2010, he began touring with the Artie Shaw Orchestra, performed with the Charleston Jazz Initiative Legends Band and is also featured on its first CD recording.
Image Gallery
Selected Albums