Person, Houston (b. 1934)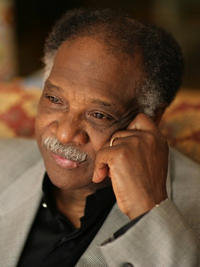 He's one of the best…he's got bull chops!" – Dizzy Gillespie
Dubbed "the natural heir to the Boss Tenor crown worn so long and so well by Gene Ammons" (Bob Porter), global performer Houston Person knows the music business inside out, from booking his own tours to producing his own albums.  A two-time Grammy finalist as producer and artist, Houston Person is a career tenor saxophonist, producer, bandleader, and recording artist.  He is well-documented in print and in recordings as a master of popular jazz standards.
Born in Florence, South Carolina in 1934, he remembers his parents listening to lots of music at home, including jazz.  First playing piano before switching to the tenor saxophone at age 17, he began formal musical studies at South Carolina State College (now South Carolina State University) where he was inducted into the University's Hall of Fame in 1999.  He later pursued advanced studies at Hartt College of Music in Hartford, Connecticut. 
It was in the 1960s when Person began to receive national attention with several albums on the Prestige label.  He was a member of Johnny "Hammond" Smith's group (1963-1966) and since then has worked consistently as a bandleader and producer.  Person has over 75 albums as a leader or co-leader on Prestige, Westbound, Mercury, Savoy, Muse and HighNote Records — the indie recording label he is currently affiliated with.  In 1990, his recording with Ron Carter (Something in Common on Muse), won the Independent Jazz Record of the Year Award.  Other awards have included the prestigious Eubie Blake Jazz Award (1982) and the Fred Hampton Scholarship Fund Image Award (1993), and he has been honored with a "Houston Person/Etta Jones Day" in Hartford County, Maryland (1982) and in Washington, DC (1983). 
A sampling of other albums he has been a leader or co-leader on over the years includes Goodness! (Prestige, 1969), The Truth (Prestige, 1970), The Big Horn (Muse, 1976), Very Personal (Muse, 1980), and The Party (Muse, 1989).  Person's closest musical association was with the great vocalist, Etta Jones – a musical partnership of recording, performing and touring that began in 1973 and lasted over 30 years until her passing in 2001. 
His HighNote recordings as both tenor artist and producer, My Buddy: Etta Jones Sings the Songs of Buddy Johnson and Etta Jones Sings Lady Day were Grammy finalists in the Best Jazz vocal category in 1999 and 2000, respectively.  His jazz standard repertoire includes To Etta with Love (2004), Why Not? (Muse, 1990), which won an Indie Award (Muse). 
Person has played and recorded with Eddie Harris, Lanny Morgan, Leo Wright, Charles Brown, Buddy Tate and Nat Simkins (The Tenors of Buddy Tate, Nat Simkins and Houston Person, Muse), Bill Charlap (You Taught My Heart to Sing, HighNote, 2006), Charles Earland, Lena Horne, Lou Rawls, Dakota Staton, Billy Butler, Richard "Groove" Holmes, and NEA Jazz Masters, Horace Silver (1995) and Cedar Walton (2010), among many others.
HighNote has issued a three-disc collection of some of his finest recordings along with four new tracks.  Entitled The Art and Soul of Houston Person (2008), this is the first multi-disc retrospective of an artist's recorded work to be issued by the label, and was the Village Voice Jazz Consumer Guide's #1 Pick.  Houston's latest recording, Mellow, features the same winning combination of outstanding sonics, time-tested tunes, and great jazz.
Wrote Gary Giddens in the Village Voice, "I have always admired Houston Person for his huge tone, bluff humor, and pointed obbligato…Person lucidly rides the beat with figures you think you've heard but haven't.  These are not recycled licks or clichés…Person is unchanged, an unmoved mover of certain jazz essentials." 
Ask him what's important in his music, and Houston Person notes that "it's important that it's relaxing…relaxes you and makes you feel good…I'm going to always play the things that I think contributes to good jazz, such as the blues and swinging."
Person was a featured "jazz legend" at the Charleston Jazz Initiative's Legends Festival in June 2010; he performed and soloed with the CJI Legends Band, and is featured on CJI's first CD recording.
 Photo Courtesy of John Abbot
Image Gallery
Selected Albums



Video