Kenny, George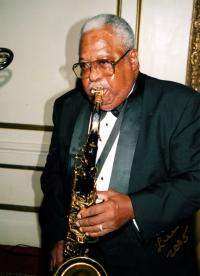 George Kenny, a native Charlestonian, received his first musical experiences as a trumpet player at Burke High School in Charleston.  He later trained as a saxophonist after enlisting in the United States Air Force (Korea), and then attended South Carolina State College (now South Carolina State University) earning a bachelor of science degree in music education.
Kenny was a band director for Charleston County schools for thirty-two years before retiring in 1991.  He taught at Laing High School, C. A. Brown High School, Burke High School, Courtney Middle School, and the Jenkins Orphanage. While at C.A. Brown High School, the school's musical production of Hello Dolly (1970) was the first to sell every seat at Charleston's Gaillard Auditorium for three performances.
Kenny has performed as bass violinist for the Ebony Fashion Fair for several years and with such musical greats as Lou Rawls, Teddy Pendergrass, and Dizzy Gillespie.  He has also performed for the Piccolo Spoleto Festival, MOJA Arts Festival, and with most of the jazz musicians in the Charleston area. Currently, Mr. Kenny plays with the Davis Archer Band at major hotels and island resorts, and is the director of the Melody Chimes Ensemble at Calvary Episcopal Church in Charleston.  He has been featured in two motion picture films — The Notebook and Consenting Adults.
CJI's Jack McCray lists him in his 2007 book, Charleston Jazz.  He performed with CJI's Legends Band in 2010 and is featured on its first CD recording.  Kenny prefers to be called a "Good Sideman" as his ensemble career has spanned over 50 years. 
Image Gallery
Selected Albums