Caldwell, Ann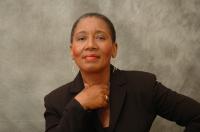 As a solo artist, ensemble vocalist, and music producer, Ann Caldwell is Charleston's "first lady of jazz."  Performing locally for decades, Caldwell is a jazz and blues singer, and is greatly influenced by the past.  She has performed a series of centennial concerts devoted to the music of Duke Ellington and formed the Magnolia Singers to perform the spirituals of times past.
Caldwell has appeared in Porgy and Bess, Clay Rice's musical production Lowcountry Legends, and has studied with the late June Bonner who performed with the Metropolitan Opera.  She is a master of accents, accurately recreating the tonalities of speech which are important to both jazz and blues.
Caldwell has a long list of performances as a jazz and blues singer.  She is a vocalist with the Charleston Symphony Orchestra Pops Concert, as well as a featured artist for the Lowcountry Aid to Africa annual galas in Charleston.  Other performances have included the Indigo Jazz Concert, Japanese National Anthem, Charleston Symphony Orchestra Gospel Choir, Charleston Jazz Orchestra of the Jazz Artists of Charleston, and wrote and performed a short story to a sold-out crowd at South of Broadway Theatre Company in North Charleston.
Caldwell performs regularly in Charleston with the Magnolia Singers at Praise House, The Jazz Factory, and with a combination of great jazz musicians at several of the finest restaurants in Charleston — Mercato and McCrady's.  She performed with the Charleston Jazz Initiative Legends Band in 2010 and is a featured vocalist on their first CD recording.
Photo Courtesy of Tony Bell
Image Gallery
Selected Albums