Baxter, Quentin (b. 1970)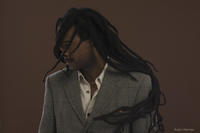 Quentin Baxter, drummer, is a native Charlestonian who comes from a family of drummers.  He received his Bachelor of Arts degree in Music Theory and Composition from the College of Charleston (C of C) and currently serves as an Adjunct Professor of Jazz Percussion and recording engineer in the Department of Music at C of C.
Baxter is owner, producer, composer and recording engineer for Baxter Music Enterprises, LLC, international performing/recording artist, recording engineer, drummer with the Charleston Jazz Orchestra/Jazz Artists of Charleston (an organization where he also serves as Vice President), musical director for the Charleston Jazz Initiative (CJI) and producer/sound engineer for CJI's first CD recording, and musical director at the Charleston Grill, Charleston Place Hotel. 
He has served as the co-producer, composer, arranger, performer and full audio production engineer for several projects including:  "Seeking: A Concert Dedicated to the Painting Seeking" (2009); Dana Sardet's documentary film, "Gross Roots: The Enduring Art of the Lowcountry Basket" (2008); internationally-acclaimed recording artist Rene Marie's "Experiment in Truth" (2007); Brad Jayne's short film, "Song of Pumpkin Brown" (2007); and "Art Moves Jazz," a multimedia art show with artist John Duckworth (2005).
His discography includes:  "Seeking: A Concert Dedicated to the painting Seeking" (2009); Rene Marie's "Experiment in Truth" (2007) and "Serene Renegade" (MaxJazz, 2004); Monty Alexander's "Rocksteady" (Telarc, 2004); Teddy Adam's "A Message from Savannah" (2003) and "Kith n Kin" (2000); and Robert Lewis and Frank Duvall's "Fearless Jones" (2002) and "Swagger" (2000).
Photo Courtesy of Jack Alterman
website »
Image Gallery
Selected Albums


Video