Morant, "Joey" Joseph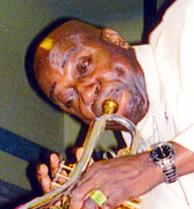 He can sustain a pure, high note for what seems like forever.  He bounces on and off the stage,
switching from lyrical crooning to scat singing to growling Armstrong imitations,
alternating voice with horn, without missing a beat.
Morant…is quite simply a tremendously talented and imaginative musician.
Louise Causey Lewis, Arts and Entertainment, Hilton Head, SC
Joey Morant is a native Charlestonian, brass instrumentalist and vocalist.  He is the quintessential trumpeter from the Jenkins Orphanage band tradition of the 1950s.  At the age of eleven, inspired by the piano, he became interested in classical music.  When Fletcher Linton, a teacher at Charleston's Henry P. Archer Elementary School, put a school band together, Morant began studying the trumpet.  A generous benefactor, recognizing his talent, arranged for him to spend the summers of his high school years studying theory at the Berklee School of Music.  By age fifteen, Morant was teaching theory and saxophone to Oscar Rivers.  Later, Joey joined the Metronome All Starts under the direction of music educator, Melvin Hodges, Jr., a member of the 1996 Olympic Committee.
He is known as "Mr. Entertainer" and has traveled the world – Russia, Denmark, Sweden, Finland, Germany, France, Mexico, performing in an array of venues  including the London Paladium with Frankie Lymon and a performance for Queen Elizabeth.  He has performed and recorded with hundreds of musicians including the Harlem Blues and Jazz Band, Ray Charles, James Brown, Tina Turner, George Benson, Lionel Hampton's Orchestra, Paul McCartney, Dizzy Gillespie, Benny Goodman, Woody Herman, and Jabbo Smith.  He performed regularly with a septet at Merv Griffin's Hotel Resorts International in Atlantic City.
In Charleston, he was a regular performer at the Chef and Clef and conducted a 17-piece orchestra at the Dock Street Theatre.  He is a former director of Charleston's MOJA Arts Festival.  Morant credits himself with starting the first jazz society in Toronto and having guitarist George Benson tour with him for two years.  He has written and recorded with Lee Morgan and worked with Art Blakey on the arrangement of Aretha Franklin's rendition of "Dixie Melody" for her first album recorded with saxophonist King Curtis.  His first recording, Better Late Than Never was released in 1998.
He won "Showtime at the Apollo" and has performed on Black Entertainment Television's Jazz Discovery program.  He received heart-felt recognition from around the world for his deeply-moving musical tribute at Ground Zero on December 11, 2001, and in 2003, he received the Harlem Jazz and Music Festival Instrumentalist of the Year.  For thirty-five years, Morant has been a martial artist with Shoto-Kwon Do Productions, a company he owns in Jersey City, New Jersey where he resides.
Morant was a featured "jazz legend" at the Charleston Jazz Initiative's Legends Festival in June 2010; he performed and soloed with the CJI Legends Band, and is featured on CJI's first CD recording.
Image Gallery
Selected Albums

Video